Mortgage Calculators
Wordpress Plugin
A responsive mortgage calculator with built-in lead capture functionality so your users can get a copy of their results and you get an email address of a prospective borrower.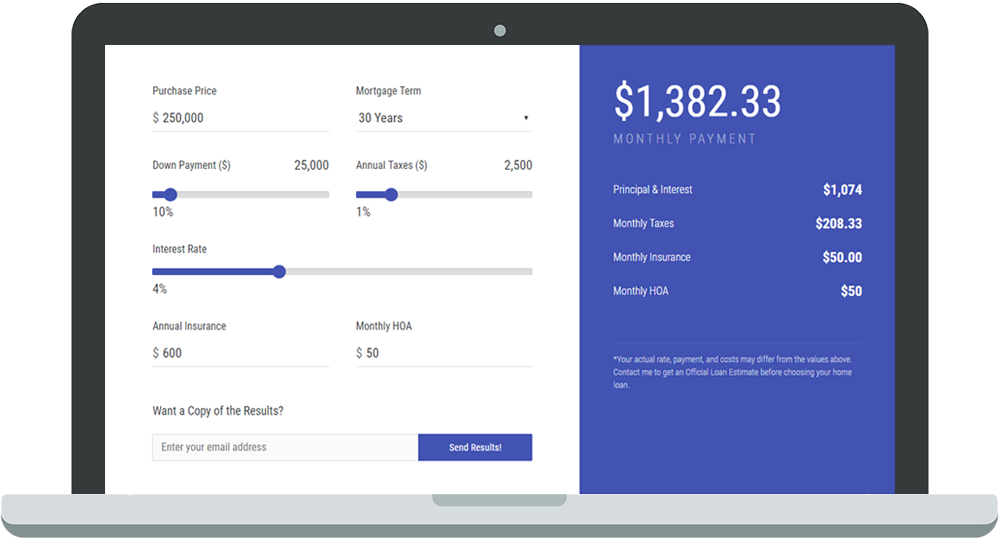 Not a Wordpress user? Checkout our mortgage calculator widget to be used on any website.
Flexible Feature Set
Wordpress MU Compatible
Whether you're building 1 website or 100, our mortgage calculators are built and optimized for any Wordpress environment.
Easy Setup
Be up and running in 2 minutes. Install the plugin, input a couple settings, place the shortcode on a page and you're done.
Customization Options
Customize the lead emails, calculator placeholders, initial values, max values and more!
For the latest version of the free Mortgage Calculators WP plugin please visit the wordpress repo by clicking the link below or searching "mortgage calculators wp" from the plugins area in your Wordpress dashboard.
Download
Premium Version
Our premium version provides 4 additional mortgage calculators to our free plugin: VA Mortgage Calculator, FHA Mortgage Calculator, Refinance Calculator & Affordability Calculator. All premium subscribers will receive all the latest updates while your subscription is active and if you require more than a 100 website license please submit an enterprise inquiry below.
Download Premium
License Key Required to Activate
Prefer to have a mortgage website with the premium calculators included and many other features along with 10 sleek, modern designs to choose from?
View Mortgage Websites